Though New Years may be the biggest fad holiday known to man, the opportunity for getting in the right mindset after some time off over the Christmas break is something we should probably take advantage of.
Although I don't take as much time to read as I would like, when I do, the books are typically non-fiction, self-help or autobiography style.  So in keeping with the theme of 'New Year, new you', I've rounded up some of my favorite 'life-changing' books that may give you a boost for 2019. Oh, and I often use Book Depository simple because it's cheaper (free shipping!) so I definitely recommend wherever you live!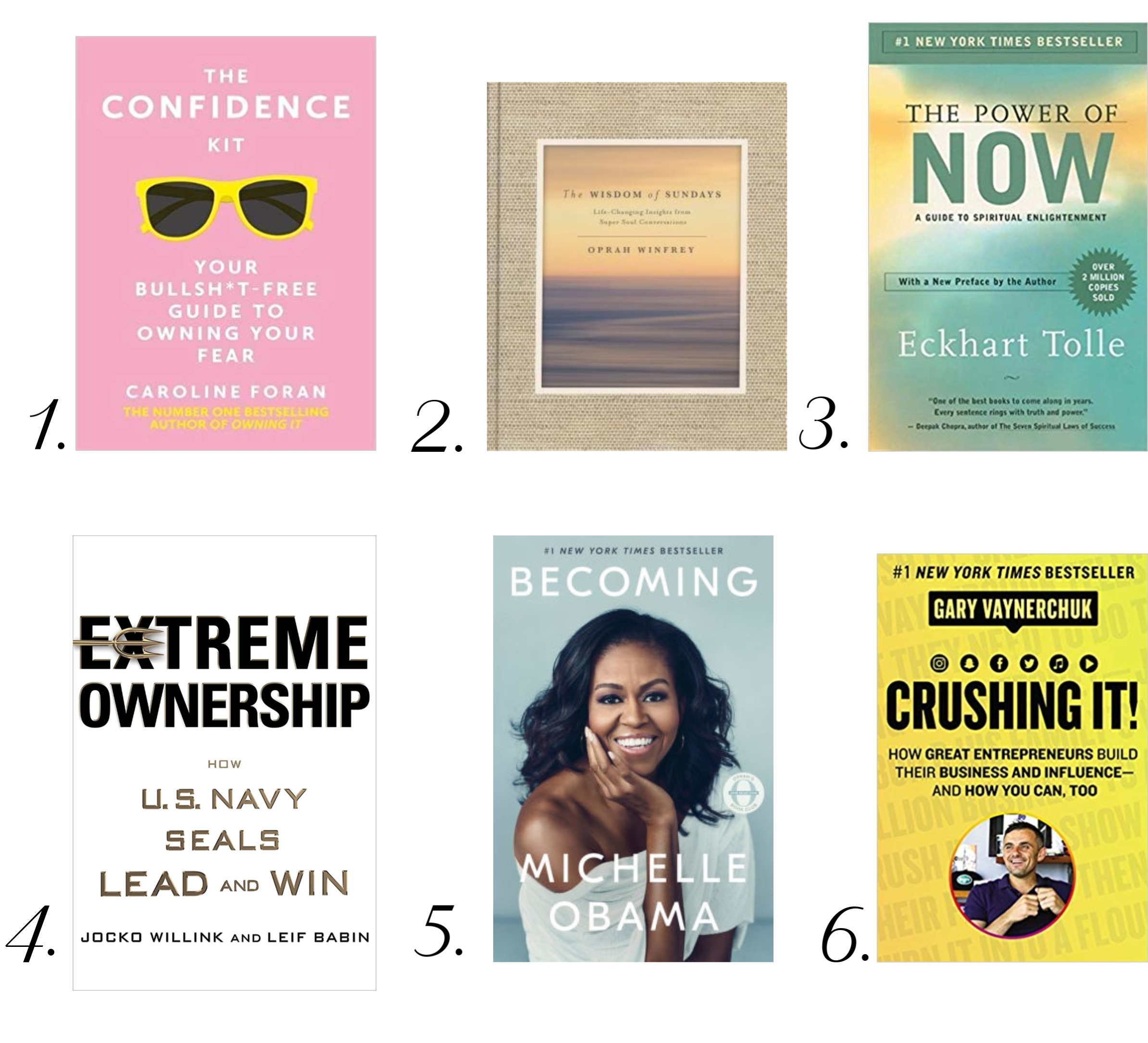 1. The Confidence Kit: Your Bullsh*t-Free Guide to Owning Your Fear – Buy it
Irish writer, Caroline Foran, shares her insight and humorous way of dealing with anxiety and fear in her second book. My mother specializes in therapy for anxiety and I myself did my own stint in therapy so my knowledge on anxiety and fear has somewhat matured – I definitely felt this book hit home for me. Caroline definitely doesn't sugarcoat the journey it takes to become more confident in yourself and includes advice on self-worth, failure, and fear based on her own experiences and research.
2. The Wisdom of Sundays: Life-Changing Insights from Super Soul Conversations – Buy it  
Oprah just so happens to be one of my favorite people and her book, The Wisdom of Sundays, rounds up some of her greatest wisdom in an inspirational hardcover.  The book encapsulates Oprah's spiritual journey, with personal essay and excerpts from some of her most meaningful Super Soul Sunday conversations. 
3. The Power of Now: A Guide to Spiritual Enlightenment – Buy it
Have you ever thought that all the pain that we suffer are just thoughts? Eckhart Tolle demonstrates how most of us live inside our heads and how we can come out of it. The journey to understanding the separation of thoughts from actual real life is a tough one but trust me, if you master it, it will all be worth it.
4. Extreme Ownership: How U.S. Navy Seals Lead and Win – Buy it
I watched a Casey Niestat's video with retired Navy SEAL officer, Jocko Willink, on why he wakes up at 4 AM every day and it really struck a chord in me. He explains how starting your day with discipline can lead to continued discipline throughout the day and over time, you get where you want to be. Jocko's book encapsulates the mindset and principles that enable SEAL units to accomplish the most difficult missions in combat and how they can be used in everyday life.
5. Becoming – Buy it
Though I haven't started this one just yet, Michelle Obama has delved deep to deliver a personal insight into her roots and her own journey to finding her voice as the former First Lady and beyond. The reviews sway more towards the theme of empowerment, which leads me to believe that this book will deliver an inspiring read.
6. Crushing It!: How Great Entrepreneurs Build Their Business and Influence-and How You Can, Too –
Buy it
If you don't know who Gary Vaynerchuk is by now, Google him. As a social media guru, content king and one of the most business savvy people in the social media marketing industry, Gary weighs in on how to turn your hobby into a career in Crushing It! His persistence, knowledge, and awareness when it comes to using digital media as a tool for creating the life you want is highly motivational.